Creating a stunning eye makeup look is something that can be a bit tricky regardless of your skin tone or eye shape. People with Asian eyes will know this better than anyone else. If you're looking for some tips on how to make the most of your eyes, you've come to the right place!
Embrace All the Beauty of Asian Eyes
This look is all about embracing the beauty of your Asian eyes. That means that a classic black eyeliner is a must, but then it can be jazzed up with some other colourful shadows. Let your lower lash line be the canvas for all sorts of colours, while sticking to classic liner and highlighting on your upper lash line. Don't be afraid to experiment!
A Really Nice Natural Look
This is all about creating a super natural look, which can really be done with any eye shape. But using this beauty as our model, we can get a step by step look at how to create a really great eye look. Start with the lightest colour over your whole lid and blend up, leave your lid colourless for a bright eyed look. Then use a darker colour to go over your upper and lower lash line, and finish it off with some light brown to soften the outline. Add a bit of mascara and you got yourself a gorgeous natural look.
A Bold and Glamorous Evening Look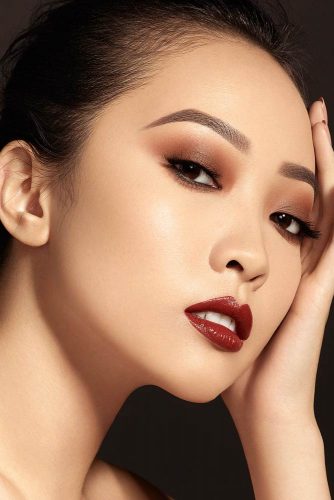 If you want to go for something a bit bolder and glamorous, this look is an excellent example of what you could do. Start with a black eyeliner and make a nice line going up and over the lid. Then work your way with shades of blue and a bit of brown to create this gorgeous, smoky eye. To finish it off, add a bit of falsies and a glossy pink lip shade and you're ready to wow the crowd!
Creating a showstopping eye look doesn't have to be that hard. Whether you're looking for a soft and natural day look or a bold and glamorous evening look, you can use these looks as a guide to create your own amazing makeup for your Asian eyes.

www.pinterest.com


www.bustle.com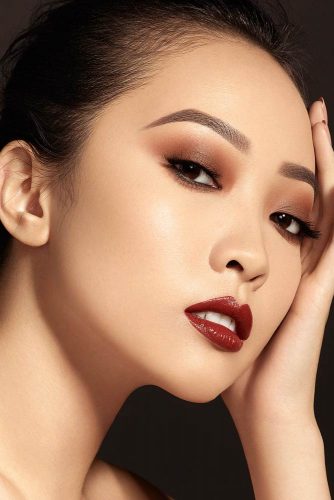 glaminati.com