Valentine's Day is a special day for all couples in love, and for many of us, it is the best time to show some love and affection through the way we feel. With a vast array of heart-shaped accessories, dazzling jewelry and beautiful gifts, one way to make your Valentine's Day extra special is by creating a unique and stylish manicure. If you are looking for inspiration, see our pick of the best Valentine's Day nail designs ideas that will definitely make your significant other swoon.
1. Glittery Red Nails
Nothing says 'romance' louder than a classic combination of red and silver or gold glitter. If you want to take it up a notch, use some finely- detailed glitter pieces that will give a 3-dimensional effect to your manicure. Add golden or silver accents, draw heart-shaped patterns on the red negative space, and get creative. Match your manicure with your dress for maximum impact.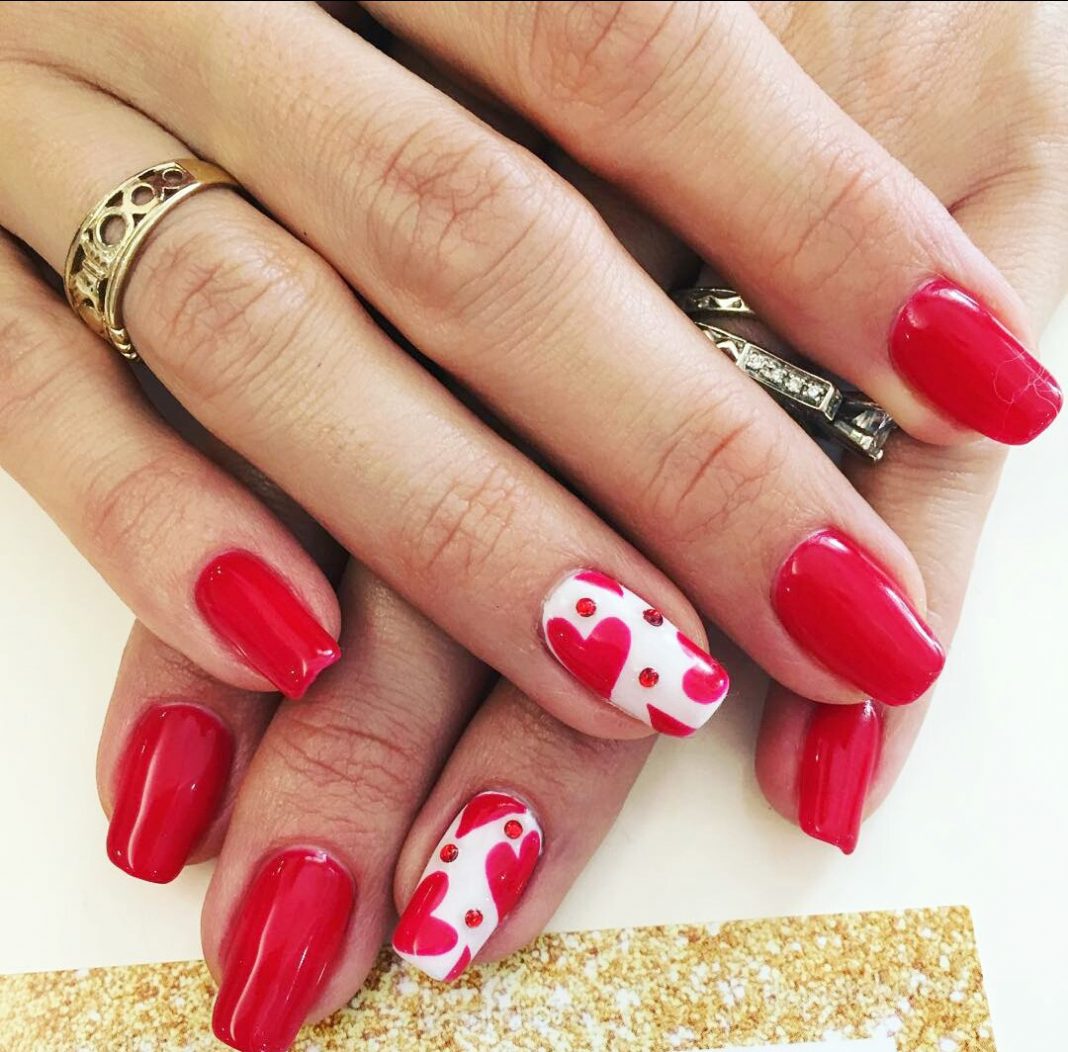 2. Rainbow Marble Nails
Marble art is having a major trend moment this season, so why not use it for your Valentine's Day nails! Choose various shades of red, pink and white, mix it all up and use a marbling tool to create these stunning nails. To give a cohesive feel to your manicure, apply the same color on the waxing — opt for white or pink and apply it in a thick layer to give a marble-like look.
3. Baby Pink & White Nails
Just looking at these nails make you feel warm and fuzzy inside — that is how romantic these baby pink and white heart-shaped nails are. To achieve them, use pink and white shades and combine varnish with other accents, such as sequins and perhaps bows. Make every element match to create this dreamy and girly look. You can tone it down with a subtle matte top coat or make it even more stylish by adding in some golden embellishments.
4. Glittery Heart Nails
Glitter is essential on your Valentine`s Day nails, and in this design, it fully takes center stage. Choose a red or pink nail polish and then paint cool heart-shaped patterns with silver glitter polish. Afterwards, use a thin brush and metallic paints to draw even more precise details or to vary between the different silver chunks. To finish your look, add some golden gems, and voila — you are ready to party!
5. Classic Red & Pink Nails
If you want to keep it simple, yet equally stylish for Valentine`s Day, opt for a combination of red and pink. Draw a heart pattern on two middle nails and match the other nails with one of the two colors. To keep with the Valentine`s Day theme, use a red color for the hearts. A matt top coat and some holographic glitter details will seal the deal for your manicure.
6. Ombre & Glittery Nails
This ombre manicure looks simple, yet it's quite charming and alluring. Choose two shades of pink and combine them together. Then, finish off your look with some silver and pink details. To make your nail design stand out even more, add gem details or tassels in pink and silver. Besides being timelessly elegant, this manicure pays tribute to the ever so romantic and feminine ombre dye.
7. Black & White Hearts
This unexpected addition proves that Valentine`s Day can be stylish and unique. Choose two contrasting colors for your manicure — black and white — and draw hearts on the nails. To give it an extra edge, choose a holographic polish for the heart outlines and add small gems for extra sparkle. The result is a fashionable and modish manicure without being too romantic.
8. White & Red Hearts
A white-red manicure — a classic choice for Valentine's Day — can be easily updated with a hint of glitter and a few gems. To achieve it, choose a white and a baby-pink nail polish, draw a few heart patterns on two middle nails and match the other nails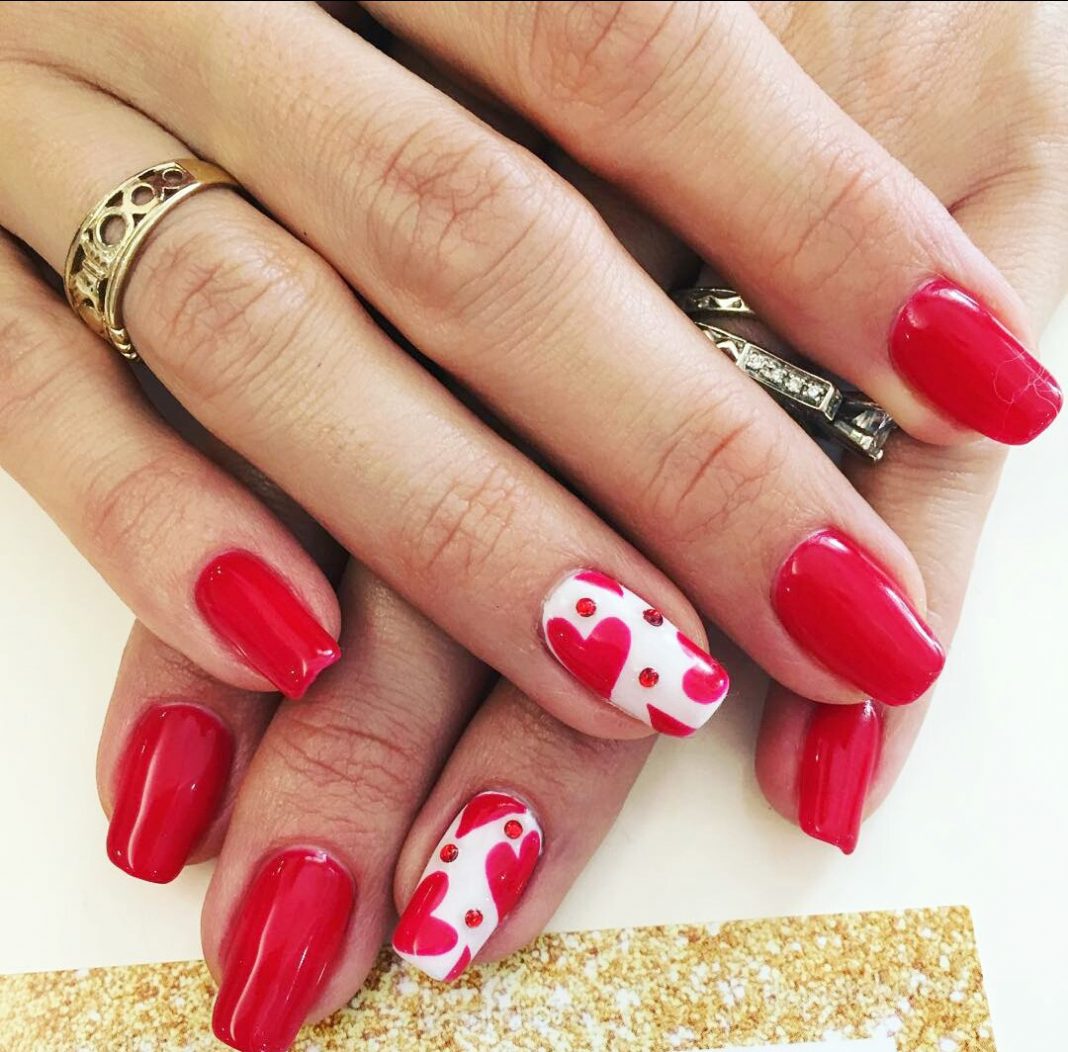 ladylife.style