Summer is a time to let loose and have a little fun so why not show it off with some summer-inspired nail designs? Tropical nails are all the rage right now, letting you take a little slice of summer paradise out with you wherever you and your nails go. Tropical-inspired nails often feature bright, vibrant colors like blues, oranges, and pinks and can be adorned with motifs like tropical flowers, beach waves, and pineapple-print designs. From subtle, detailed nail art to maximum tropical vibes, these fun, free-spirited trends can be done on natural and acrylic nails.
Fresh Tropical Nails Come Out To Play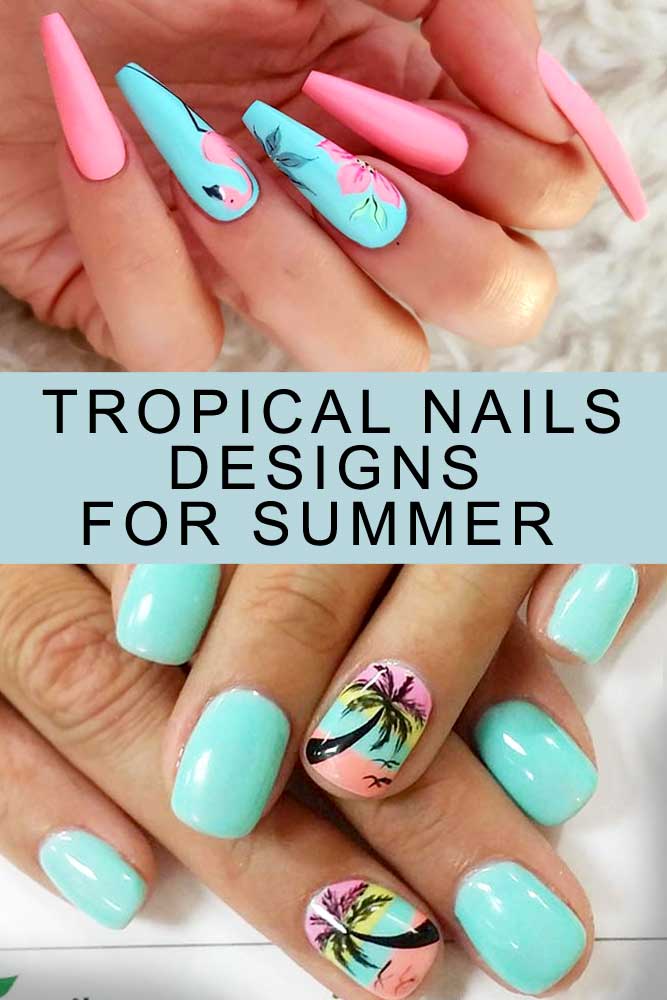 This festive design brings the party to your fingertips. This manicure offers a bright yellow background with a bold, tropical-inspired palette of pinks and greens, featuring a gorgeous flamingo and palm leaves, perfect for a summer getaway. Nail art details include a simple stripe of pink across the top and an angled, multi-colored triangle on the thumb.
Palm Leaf Detailing
This chic and simple tropical-inspired design looks great on natural and acrylic nails. The warm, natural color of the solid background creates a great backdrop for the detailed, dotted palm leaf styling. The white and black accent-nail features thick strokes of palm fronds, creating a modern twist on a classic summer trend. Whether you keep it simple with clear nails or want to add some more vibrant accents, this is a great look for summer.
Pretty Pineapples
This summery manicure is a fun way to show off your tropical nails. The soft white base is adorned with golden pineapple accents, as well as fresh, bright green palm leaves. For extra summer vibes, vibrant yellows, pinks, and blues can also be added for a burst of tropic color. For a subtle look you can use these lightweight accents with fun nail coloring each time for a slightly different look.
Fresh Floral Designs
Bring the beauty of the tropics to your fingertips in a sophisticated way with this chick, detailed manicure. Pale peach and yellow colors provide a stunning background for vibrant pink and colorful flowers, foliage, and curved line detailing. This look can be done on both natural and acrylic nails with the perfect balance of modern and classic. The perfect way to add an elegant, free-spirited twist to your nail routine.
Tropical Vibrations
If you're looking for maximum tropical vibes, this abstract nail design is the one for you. Capturing the colors of summer in a vivid, eye-catching abstract swirl, this lively art brings joy and energy to any summer outfit. Using every color of the rainbow, this design oozes fun and warmth, ideal for making a statement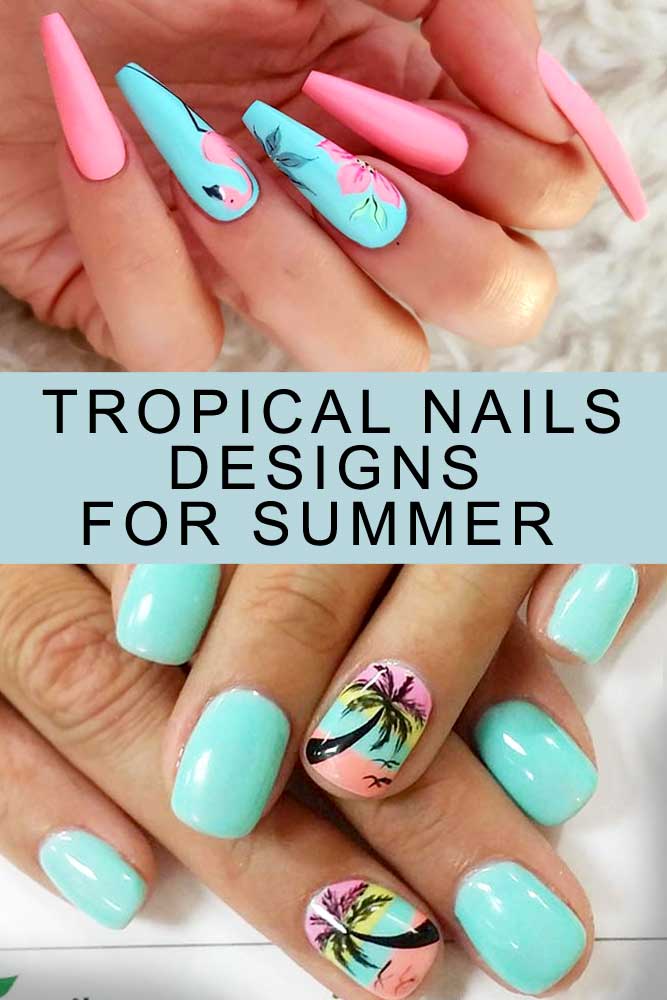 naildesignsjournal.com